"A far more lucid description of management" Micro User Magazine
Your squad can be developed in two ways and most managers will use a combination of both. Clearly you can use the transfer market to bring in new players and build the squad from there. But this can be expensive and few clubs can afford ths. Most clubs will run a youth system which will supply a stream of young players who will hopefully make first team regulars.
So SaaP allows you to employ a youth team coach to work with the youth players who come in each season. He will keep you in touch with youth development with opinion about the players and their progress and whether or not they should be promoted to the full squad (top right).
A good youth system and youth team coach can be an enormous help to you.
Your youth team coach will take care of the development of these players until you promote them to the full squad. At that point you take over responsibility for their development. You control the pace and development of all your 1st squad players from the individual coaching system.
In your weekly training schedule you can allocate sessions to individual training when the style of training is determined by the regimes you've set from the individual training screen (bottom right). You can set each individual player to develop any of the range of skills or you can set individual groups of players to a set skill ie you can set all strikers to finishing and so on.
This training will determine the direction in which players will develop.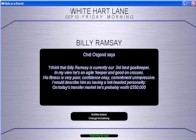 REPORT ON YOUTH PLAYER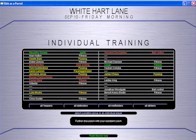 SET INDIVIDUAL TRAINING