"A far more lucid description of management" Micro User Magazine
THE EDIT PROGRAMS
CLUB EDIT PROGRAM
This is a completely separate program that serves the dual puprose of defining the database for the club module but also giving you a reference database for use outside of the game.
It gives you full control over the accuracy of the data included allowing you to define both the club and player information down to the last detail. It can be accessed from within the game or directly from the program itself.
I have a shortcut to it on my desktop for quick reference and also a copy on my laptop which I have beside me and update as I watch televised games.
INTERNATIONAL EDIT PROGRAM
This too is a completely independant program that sets the information on opposition nations and your starting squad for the international module as well as an international database reference.
International squads change rapidly so it's useful to edit the squad information to keep you database and international game up to date. The data on players is very similar to that of the club database and can be edited with the same ease.
You can enter data manually or search for that player on the club database from within the international edit program.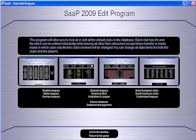 CLUB EDIT PROGRAM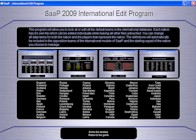 INTERNATIONAL EDIT PROGRAM