"A far more lucid description of management" Micro User Review





Share the Internet Price Advantage
Some years ago, when I was supplying games via snail-mail in the UK, I once ran out of the Jiffy bags used for packaging. These bags cost me just 7 pence each wholesale but when I nipped down to WH Smiths to pick up a few bags to tide me over I found myself paying 74 pence each. We pay an enormous price for the convenience of buying goods from a retail outlet.

The same goes for computer games, music cds and videos. Typically a game designer will receive 10-15% of the price you pay for the game. 85-90% of your money pays for that convenience without adding much more than a cd and case.

The Internet allows the designer to deliver his game directly to the user and therefore can slash the price you have to pay. Not down to 15% because setting up commercial websites is not free, the sales numbers are currently nowhere near as high and piracy is a major problem but a very significant reduction in price can be achieved.

So SaaP Online shares that price advantage with users. The one-off download of $A30 works out at around 14 British Pounds or $US20 - about 30% of the price of most offline cds (FM is $A89 here in Oz). Better still is the SaaP Online subscription which is $A40, approximately 19 British Pounds or $US28. For that you get the latest game and 12 months of developments. Essentially that means you get two for the price of one - subscribing to SaaP 2009 will also get you SaaP 2010. After that it is only $A20 for resubscriptions - it's a long time since an smg was 9 Pounds.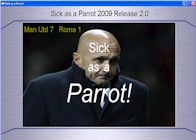 Sick as a Parrot 2009
Throughout the site click on the thumbs for the full screen shots